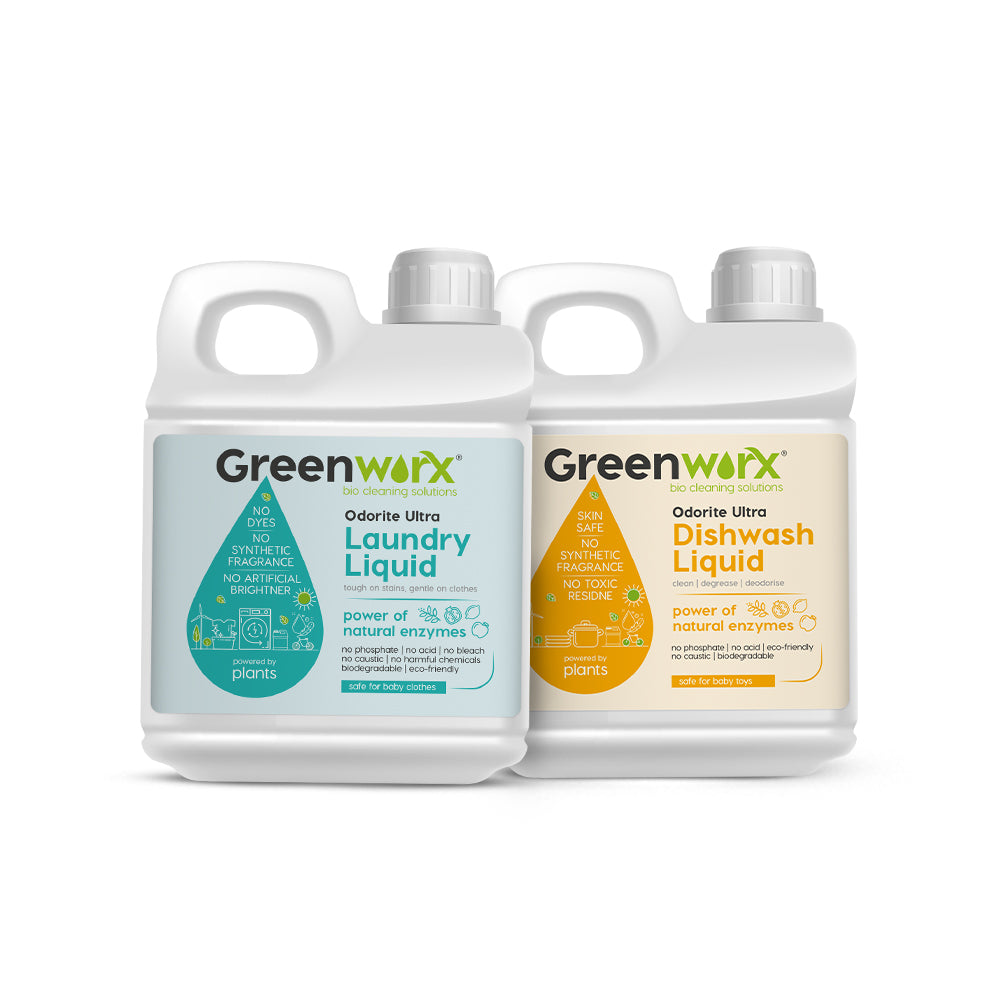 Greenworx Laundry Liquid +Dishwash Liquid Combo - (5 Ltr * 2 Pack)
Regular price
Rs. 2,199.00
Sale price
Rs. 2,199.00
Regular price
Rs. 3,000.00
Tax included.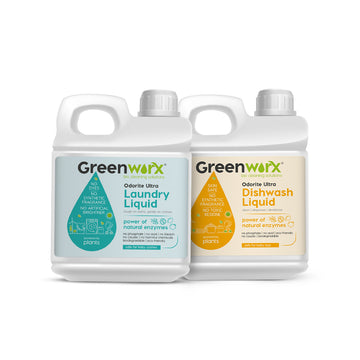 Greenworx Laundry Liquid +Dishwash Liquid Combo - (5 Ltr * 2 Pack)
Regular price
Rs. 2,199.00
Sale price
Rs. 2,199.00
Regular price
Rs. 3,000.00
Product Description
Ingredients
Direction of Use
Product reviews
Laundry Liquid

PLANT-BASED, BABY SAFE: Greenworx Baby Laundry Liquid Detergent is completely safe for all your baby-clothes and linens as it's made with natural bio-enzymes and oils, making it the perfect choice for your baby and your family.
TOUGH ON STAINS, EASY ON DELICATES: This detergent liquid effectively and powerfully tackles the hardest and peskiest stains making sure your baby clothes are fresh, clean and soft at all times, while also being ultra-mild on delicate clothes keeping them looking brand new for longer.
GOOD FOR YOU: Our baby laundry Liquid Detergent has zero bleach, is sulphate and paraben free, does not have any soap, phosphates and is vegan and cruelty free.
Greenworx Ultra Laundry Liquid can remove the stains of Candy , chocolate , coffee , tea , deodorants , dirt , fruit juice , grass , gravy , ink , tomato sauce , lipstick , oil , pet stains , pollen, poop , salsa, wax , wine and much more. Our Laundry Liquid is safe and non-toxic for you and even for the environment. Delivering you the best quality washing experience by making it possible to keep our products clean to not harm the mother earth.

Dishwash Liquid
Greenworx Natural Ultra Dishwash has the power to fight through the stains with Gel Pack Twice Punch. Our carefully created and formulated Gel Dishwash will keep your dishes clean and your hands cleaner. To leave a gentle impact on your skin, we have crafted it with the goodness of coconut, palm, sugar and corn based surfactants. It has three active. Tired of those stubborn stains on your vessels? Get them mirror clean by washing out the grease with Greenworx Dishwashing Liquid.


Greenworx dishwash liquid contains 5 Ltr of highly concentrated and effective dish wash detergent. This product is proudly MADE IN INDIA.
USAGE: Take it out in small refillable bottle Mix 1 tsp of dishwashing liquid in a small bowl of water, dip sponge and lather to wash a sink full of dishes. This product will ensure your dishes are sparkling clean, tough grease, stains, cooking odours eliminated. Can be used to wash expensive crockery, delicate bone china, baby bottles etc.


Greenworx Laundry Liquid +Dishwash Liquid Combo - (5 Ltr * 2 Pack)
It's one of the products which I got satisfied when compared to other ecofriendly detergent products.