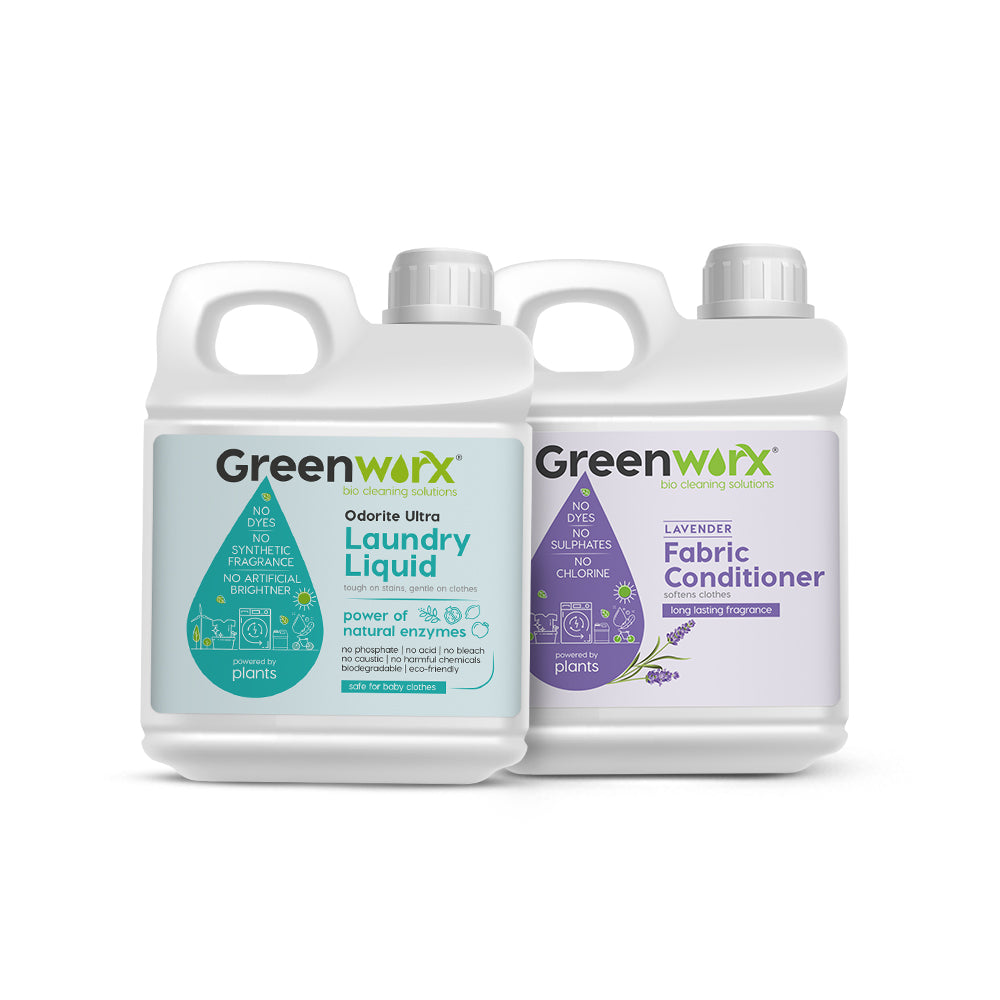 Greenworx Laundry Liquid + Fabric Conditioner (5 Ltr * 2 Pack)
Regular price
Rs. 2,199.00
Sale price
Rs. 2,199.00
Regular price
Rs. 3,000.00
Tax included.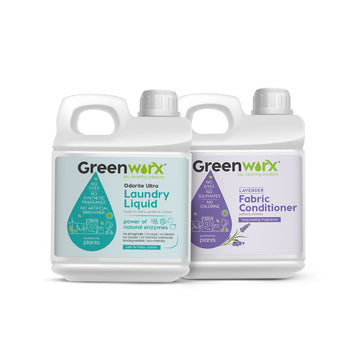 Greenworx Laundry Liquid + Fabric Conditioner (5 Ltr * 2 Pack)
Regular price
Rs. 2,199.00
Sale price
Rs. 2,199.00
Regular price
Rs. 3,000.00
Product Description
Ingredients
Direction of Use
Product reviews
Fabric Conditioner
Greenworx fabric conditioner uses plant-based ingredients that leaves clothes soft, and untangles cloth fibers damaged by washing without leaving harmful residues. With the irresistible fragrance of Lavender, your laundry will feel as good as it smells. Greenworx provides a line of home care & personal hygiene products that contribute to a greener planet by using plant powered ingredients. Every product at Greenworx is made with natural, and safe ingredients, thus making them safe for kids and pets.
Laundry Liquid
Odorite Ultra Laundry Liquid is a multi-enzyme detergent liquid which offers superior cleaning performance, at low temperatures. Our laundry detergent liquid is the only one in INDIA that contains six enzymes, each offering maximum stain removal (even on complex stains). Phosphate free, eco friendly, acid free, caustic free, hypoallergenic, 100% biodegradable, no harmful chemicals, non-toxic, baby safe, no fading, no bleach, extremely effective, all - around stain removal and whitening effect , at low temperature - Proven to remove the following stains ; Candy , chocolate , coffee , tea , deodorants , dirt , fruit juice , grass , gravy , ink , tomato sauce , lipstick , oil , pet stains , pollen, poop , salsa, wax , wine and more - Highly cost- effective - environment friendly, sustainability- enhancing solution at low temperatures - Safe , non-toxic and environment friendly - Plant based surfactant we believe it is possible to have effective, natural and safe cleaning products that don't cost the earth.
One feedback though. You should gave a provision for pickup for the empty bottles if a customer collects a lot of them.