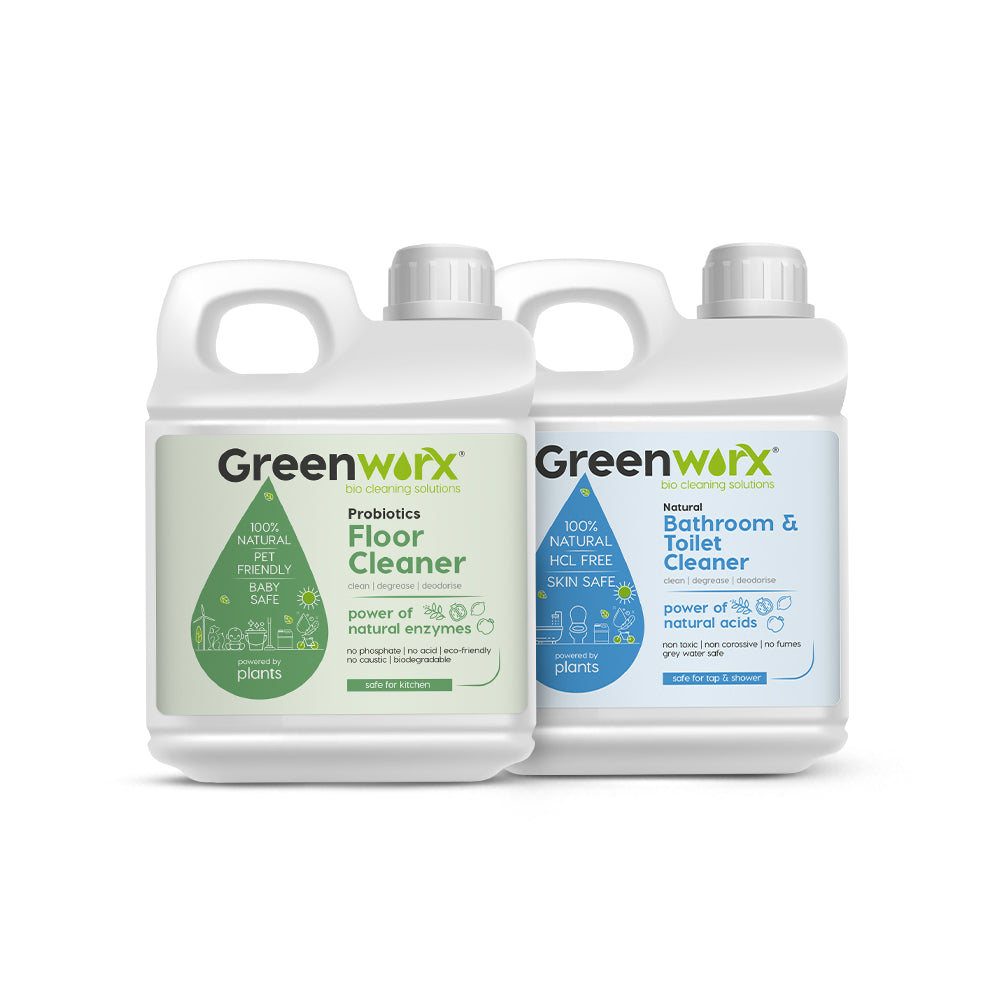 Greeworx Toilet & bathroom Cleaner + Natural Floor Cleaner Combo (5 Ltr * 2 Pack)
Regular price
Rs. 1,949.00
Sale price
Rs. 1,949.00
Regular price
Rs. 2,400.00
Tax included.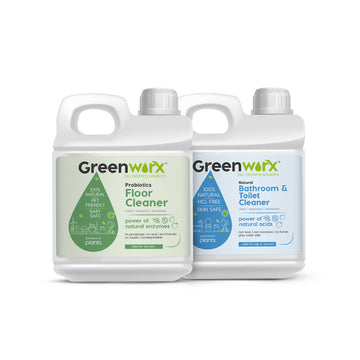 Greeworx Toilet & bathroom Cleaner + Natural Floor Cleaner Combo (5 Ltr * 2 Pack)
Regular price
Rs. 1,949.00
Sale price
Rs. 1,949.00
Regular price
Rs. 2,400.00
Product Description
Ingredients
Direction of Use
Product reviews
Bathroom Cleaner
Greenworx Bathroom Cleaner (BioTech Bathroom Cleaner) is here to provide you a clean, sanitized and deodorized bathroom at every cleanse. Specially made with our bio-enzymatic formula that contains good bacteria to fight organic waste, bad odour and soiled areas. No need to flush every time, save water and sprinkle a couple of sprays of our bathroom cleaner to remove the yellow stains, grease, germs and bad odour of your bathroom. Our Bug eating product goes in the depth of each and every cracks, crevices and pores to carefully penetrate and remove the harmful organics that can cause illness and unhealthy environment. It can also be used as pet stain remover, foot wear deodorizer and dustbin deodorizer as well.Gone are the days to worry about the bugs in your bathroom. Ingredients : DM water,Lactic Acid,Citric Acid,Eco labelled Phosponate,Alkyl poly glucoside,Alchohol Ethoxylate,Glycerin,Xanthan gum,Natural Citrus fragrance,Food grade color.


Floor Cleaner
Greenworx Floor Cleaner" lifts the old grease and grime, showing the first sign that it is working. The Enzyme work to break apart the build-up grease and organic waste on the floor and grout and leave the surface free from bacteria. Common application include cleaning floor for home, office, quick service restaurant, schools and industrial cafeterias, hospitals , grocery store floors and in food processing plants. With routine cleaning , the effect is enhanced with each application until floors are truly deep cleaned. It is safe to use in a kitchen area. Floor Cleaner: Created with a bio-active formula, this liquid works hard against the grime. Its naturally derived surfactants loosen the dirt, bringing it to the surface. The good microbes eat away the organic matter to eliminate the source of odour, not just cover it.
Awesome fragrance and cleaning experience.
This product is really good for cleaning floor and glossy surfaced product. Go for it