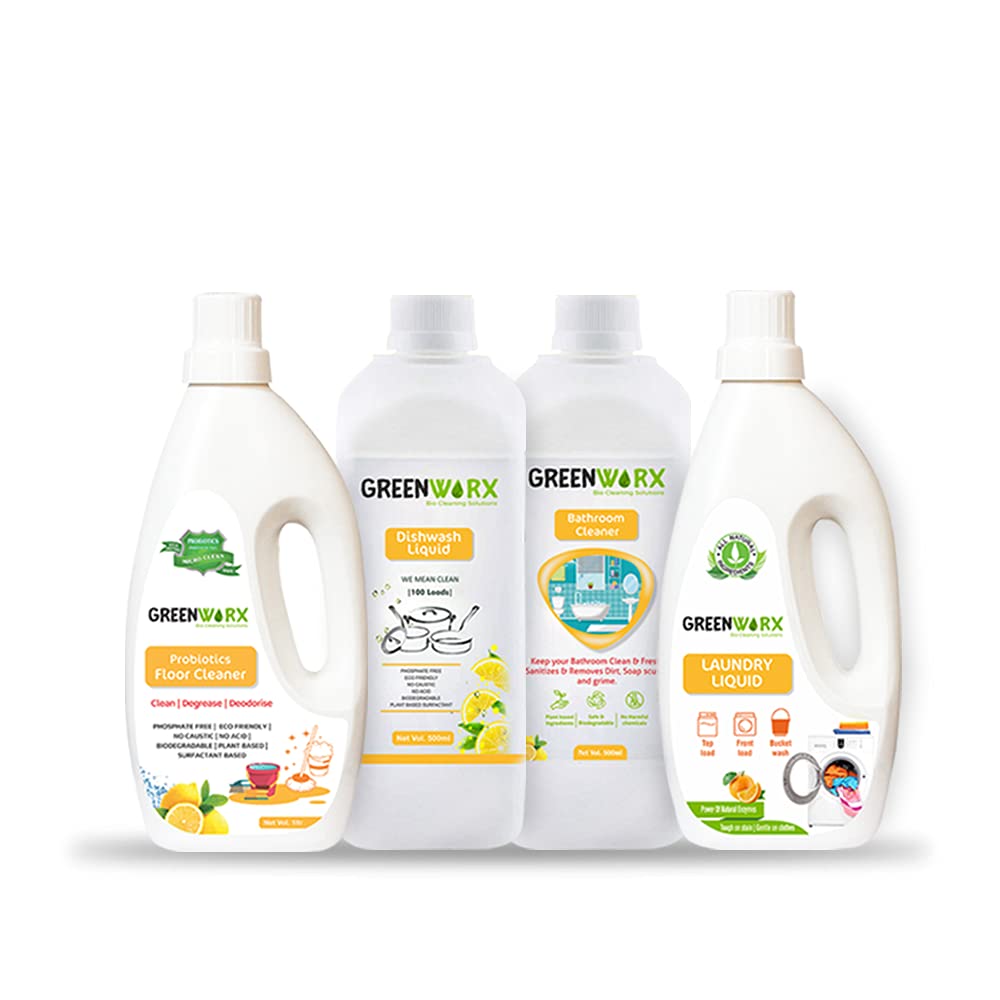 Safe, Natural, Eco-friendly Home Cleaners: Starter Kit
Sale price
Rs. 790.00
Regular price
Rs. 996.00
Tax included.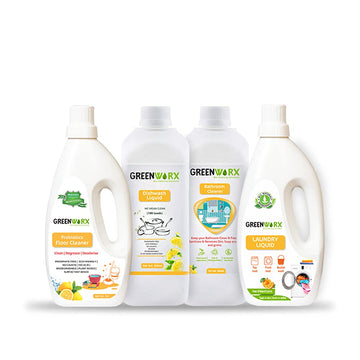 Safe, Natural, Eco-friendly Home Cleaners: Starter Kit
Sale price
Rs. 790.00
Regular price
Rs. 996.00
Product Description
Ingredients
Direction of Use
Product reviews
Ordinary cleaning products hide many dirty secrets. Every time you mop the floor, wash dishes and laundry or clean your toilet, you are exposed to toxic fumes and chemical residues left behind. Sulphates in floor cleaners, Triclosan used as an anti-bacterial agent in dish wash detergents, Acids used in toilet cleaners and Phthalates used in synthetic fragrances can cause severe eye irritation; itchy, flaky skin; respiratory disorders, nervous problems and even cancer.
Try Greenworx, the "clean" cleaners.
Made from 100% Safe, Plant-based and Eco-friendly ingredients.
Get superior cleaning performance without any side-effects on your family's health.
Your STARTER KIT contains:
Laundry Liquid (1Ltr - 1 qty)
Clean, fresh clothes with enzyme-powered technology. No fabric fading. No added bleach or optical brighteners. Machine and handwash friendly.
Dishwashing Liquid (500ml - 1 qty)
Enzyme action that removes tough grease and stains. No toxic residues, no corrosion.
Toilet and Bathroom cleaner (500ml - 1 qty)
Cleaner, germ-free toilet bowl and tiles. ZERO Toxic fumes. Cleaning action continues long after wash.
Floor Cleaner (100ml - 1 qty)
Naturally derived surfactants remove dirt and germs. Works on all hard surfaces like glass, marble, shiny polished floor and granite. Reuse wastewater for plants.
Awesome Subscription Benefits:
If you are happy with the starter kit, your next shipment will include a kit as follows:
Laundry Liquid (1ltr - 1 qty)
Dishwashing (500ml - 1 qty)
Toilet and Bathroom cleaner (500ml - 1 qty)
Floor Cleaner (1ltr - 1 qty)
Useful kit for starting natural products in the chemical world. Nicely packed for delivery.
Love this product. Highly recommend it.